Throughout this year I've seen and read a lot about bullet journaling. I did research and watched plan with me's. It all inspired me to start my own. I consider my bujo to be more personal than the other planners I have had in the past. Besides being a planner, it's also a real journal. I write things that only matter to me and I keep track of things that are nobody elses business.
This blogpost on Buzzfeed
talks about tracking your mental health which only proves that a bullet journal can literally do EVERYTHING you want it to do and can get as personal as you want it to be. The possibilities are honestly endless.
I'd like to share my setup with you all because I like to see these things from other people as well. It gives you a peek inside their mind and I find that interesting on so many levels. My setup is pretty similar to my previous planner in the sense that I have a monthly calendar at the beginning of every month, followed by my daily entries. I've also added new elements such as a weekly overview and a key. I also try to be more creative with this bujo. I'm adding decorative stickers, I'm drawing things myself and I'm sticking in colouring pages.
As I mentioned before, my bullet journal is personal. That's why I blurred out a lot in the following pictures. I'm here to show you my set up, not my actual to do list. I get my inspiration for cute typography from Tumblr and Instagram.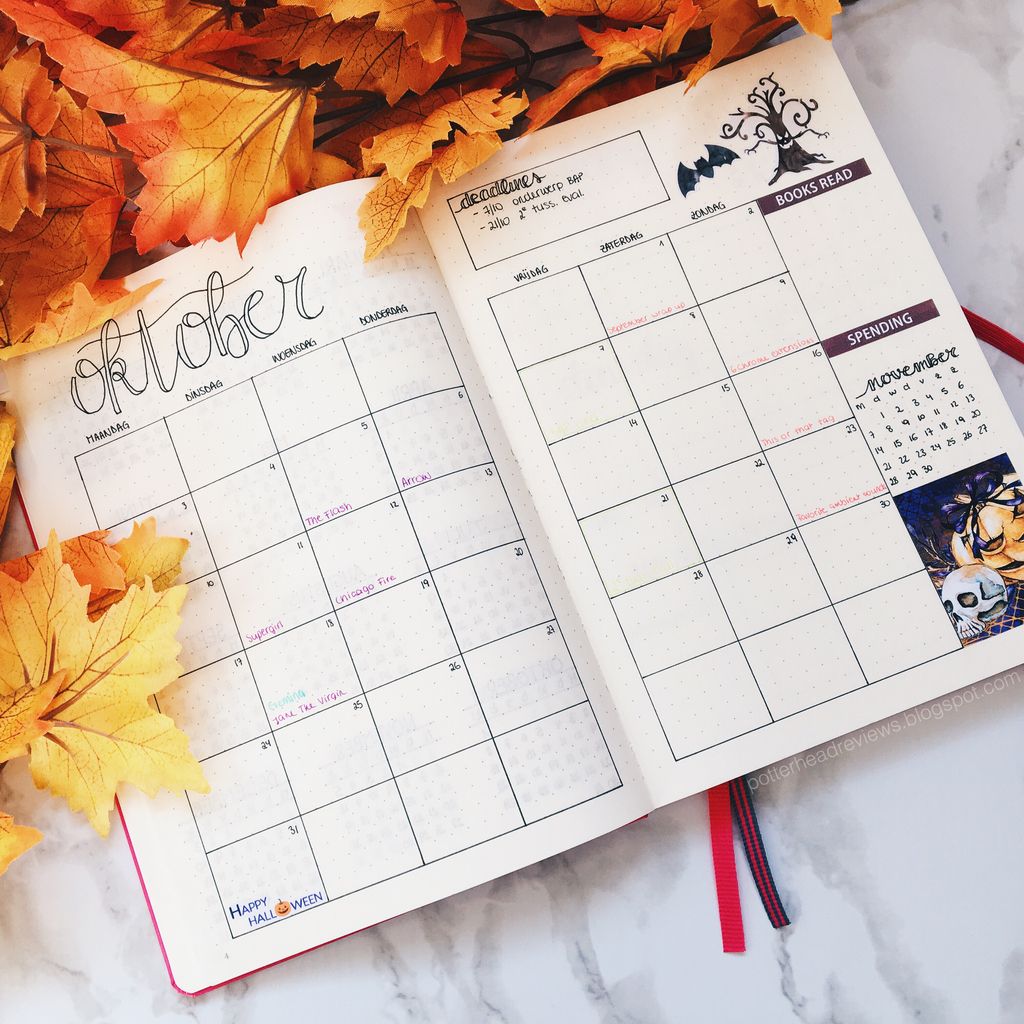 For October, I started with a monthly calendar where I write my deadlines, very important TV show premieres and book releases (PRIORITIES!) along with what books I've finished and how much I've spent. Then, I get into my weekly overviews and daily entries. For the first two weeks there wasn't anything specific that I was doing. In the third week I added timetrackers to each day (inspired by Boho Berry).
At the end of the month I added a page where I can write down any ideas for the next month (example: track food daily), my accomplishments along with the little things that made me happy that month and my goals for the next month. I also added a habit tracker for November but I didn't take a picture of that. It's just a standard habit tracker anyway, nothing fancy really.
To make the journal more me, I tried to be creative and add stickers, page flags, fun typography, drawings, etc. I also experimented with mandalas and so far so good.
In case you were wondering where I got some of the deco:
• Mandala colouring page: via Pinterest
• Sticky notes & tabs, washi: HEMA
• Functional stickers: made it myself
• Glitter box stickers: made it myself
This is the first month I've been using my bullet journal and I've already tried a few different things. I like to change the way I do dailies just to keep it interesting. After a while it gets boring if it always looks the same. If I wanted a consistent layout I could just as well buy a regular planner. Which, by the way, I do own since I don't take my bujo with me to school. It's a regular weekly Moleskine which I don't decorate at all.
---
Let's talk! Do you have a bullet journal? What's your set up like?