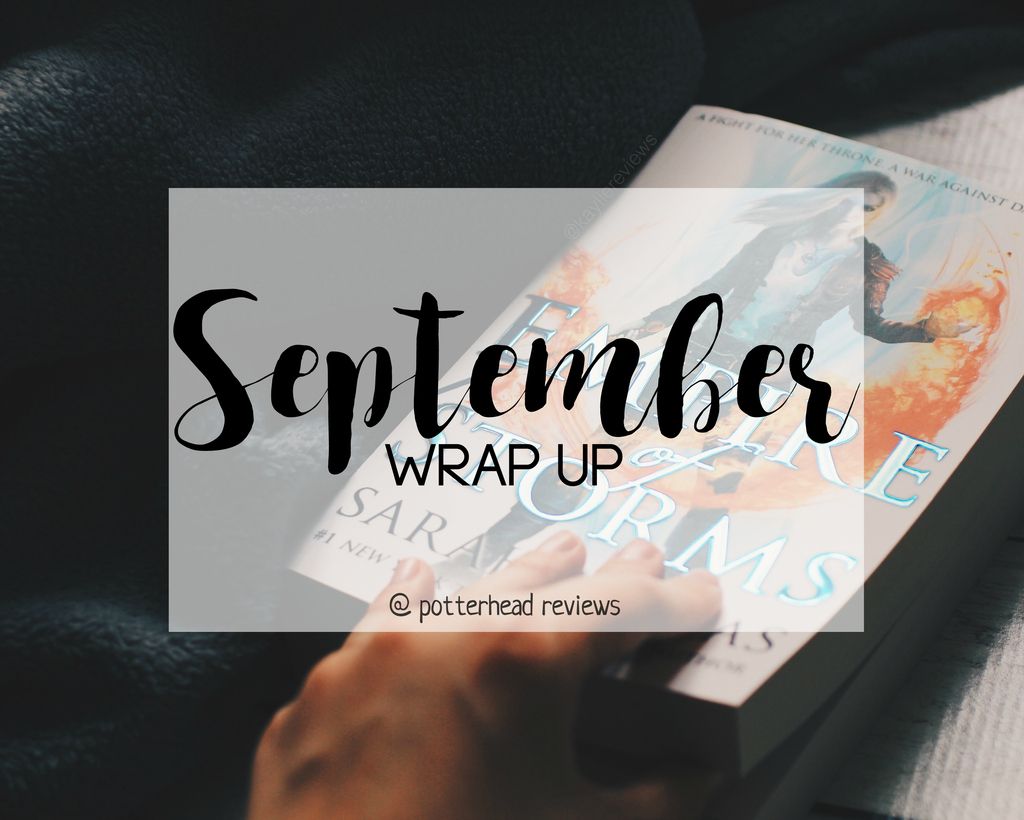 After a lot of hard work I have passed all of the resits I had this summer. A break was definitely needed! I read three books the first 5 or 6 days after making my last exam. It felt really good to finish some books and have time to read all day. Unfortunately, all good things come to an end and I went back to school after a two week break.
I didn't have anything exciting going on this month to be honest so let's skip right to the bookish part of the wrap up.
Books read in September:
Empire of Storms by Sarah J Maas
// 5+ stars
The Beauty of Darkness by Mary E. Pearson
// 4 stars
Nevernight by Jay Kristoff
// 4 stars
Can we talk about how Empire of Storms broke me? Because it goddamn did. The book hungover was real people. Now how are we supposed to wait another year?! I can't deal with the fact it'll be the last book as well. This is torture.
Never night wasn't as phenomenal as everybody made it out to be. First off, I had to push myself to keep reading this book because it was so slow. The book has a lot of footnotes, which I felt obligated to read in order to understand this story and the world Jay Kristoff has created. Toward the end I stopped bothering with them because I felt they held me up. I enjoyed the story but it's not a new favourite.
TV // movies // music
I started watching the itv show '
Victoria
' this month. It's already airing in the UK - which I forgot about until there were already 4 episodes out. I think this take on Queen Victoria's story has been interesting so far. I appreciate how it isn't solely about her and Albert. The first few episodes focus on her relationship with her prime minister and with her family. It's done a great job at showing how she was relying on others to guide her but also how she has a mind for herself and really cares about the wellbeing of her people. Jenna Coleman makes a great Victoria, though I had to get used to the coloured contacts. I feel like she looks like Natalie Dormer with blue eyes, anyone else?
I have been enjoying the return of my favourite shows this month.
Blindspot
's season 2 premiere already had me at the edge of my seat so I have high hopes for the rest of the season. Same for
Quantico
, what a season opener! Of course I am now keeping up with all the
Chicago
shows I binged this summer along with my weekly dose of superheroes.
I watched the entire first season of
Supergirl
this month because I'm just really excited about how they will incorporate Superman in this show. I'm also just interested to see what the CW has done to the show after taking it over from CBS. CW has already proven they know what they're doing when it comes to their DC shows so I trust they will upgrade Supergirl a little as the first season wasn't all that fantastic.
Honestly I'm still behind on
The Flash
but I think I'll catch up soon. I'm not excited about Arrow at all though. I don't want a new team! I want the old one!
Okay, okay - this has turned into a fall TV rant all of a sudden. I'll stop here though.
---
Let's talk! What have you been up to last month?