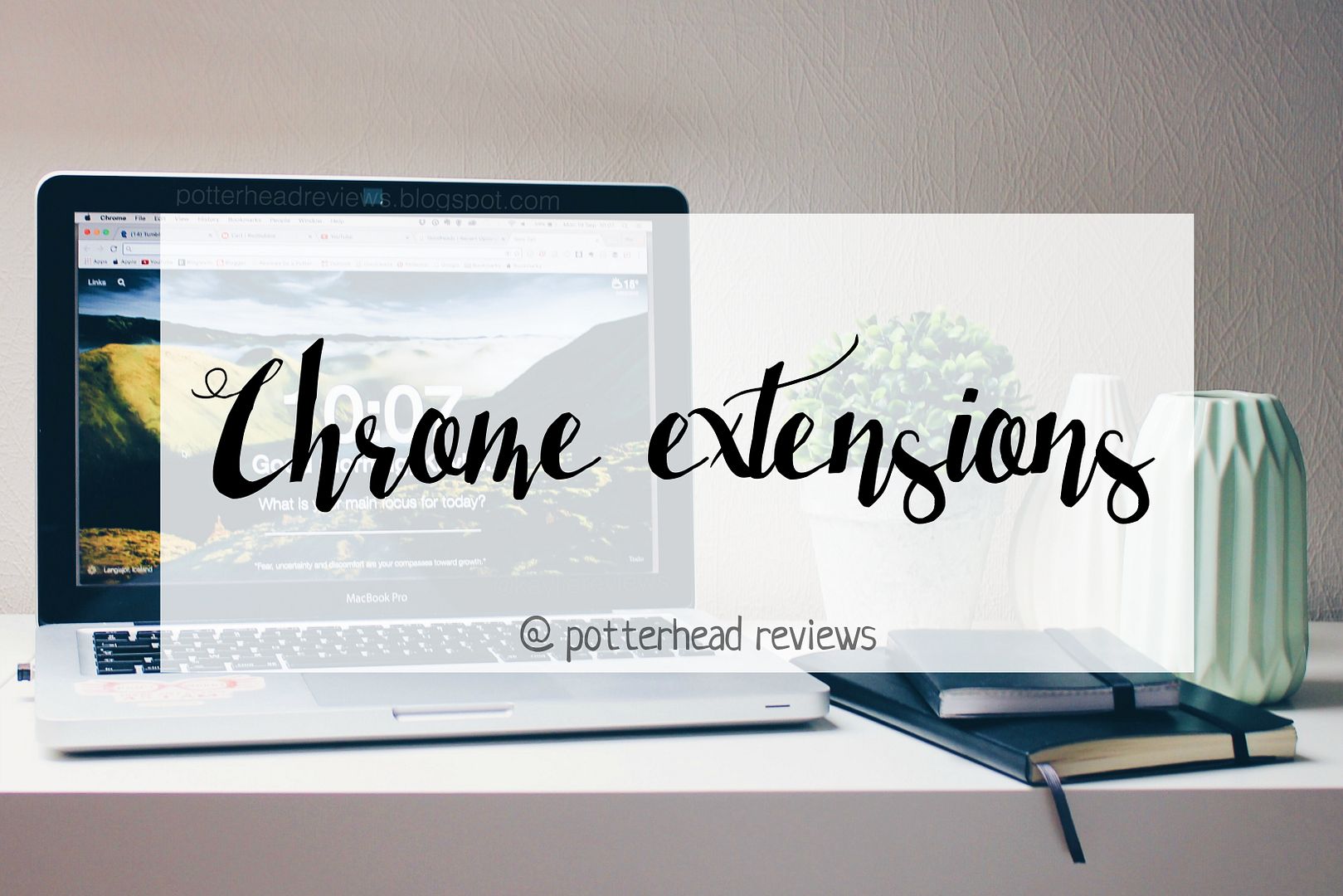 It doesn't always have to be about books around here, AM I RIGHT. Right. So that's why today I'll share some Chrome extensions I use regularly because I love to make everything as easy as it can possibly get.
1 //
Momentum
This pops up when you open a new tab. Instead of showing your most visited web pages or Google or whatever you have installed as your homepage, it shows a beautiful scenery with a clock and an inspirational quote. You can make a to-do list or just add one main task for the day. I don't use the to-do list this extension offers because I can't work with digital lists. I do like the photos though and I love how it offers a clock as well. Although it clearly doesn't have much of a function in my case, I prefer it over the boring and standard Google search page. It's also just nice to look at and you don't need an account to fully use it. The alternative to Momentum, Lanes, requires an account but they do offer a pomodoro timer.
2 //
TinyURL
This shortens the URL of the website you are currently on. I mostly use this for scheduling tweets. It saves a lot of characters than if I were to use the full URL. This comes in handy when I schedule through Tweetdeck or tweet through the Twitter website (if I'm using Buffer, they automatically shorten the URL).
3 //
Evernote webclipper
If you use Evernote on your computer, the webclipper can come in handy when you want to collect articles or webpages to revisit later. I also save PDF's on here for future reference and even save links to websites so I don't have to subscribe to a 1296979 email notifications (I HATE those).
4 //
XKit / NewXKit (Tumblr)
XKit has all sorts of neat tricks for Tumblr. My favorite is definitely the Enhanced Queue. I can shuffle my queue with this and I absolutely LOVE doing that because I often just queue lots of the same shit in a row (like all fanart or shadowhunter related gif-sets) but I don't want to be repetitive or give someone the impression that I'm stalking them.
I also have 'Anti-Capitalism' and 'No Recommended' on, which prevents Tumblr from recommending posts to me that I don't give a crap about. There was a time I was seeing the posts of an account I don't follow and I absolutely HATED IT because it was about ponies and I don't care much about ponies at all (sorry ponies). The extension also lets you find inactive users you're following so you can just unfollow those people. Honestly, it's a great extension. Go and get it.
5 //
Archive poster (Tumblr)
This makes posting directly from archives must easier. You can select multiple posts and queue those all at once. You can tag them, find similar blogs or quickly select a bunch of posts in someones archive.
6 //
AdBlock for Youtube
Recently I had been getting 4 (!!!) ads in every single video I watched and I got sick of that real quick. I installed AdBlock after multiple people recommending this and now I can watch YouTube videos in peace again. No more ads during the videos. You can still see adds next to the video though.
---
I'm always looking for more tricks to make browsing the internet more fun and easy so if you have more extensions to recommend, feel free to do so.