As you might know, my birthday was last month. With my birthday money I always like to treat myself to some new books. It also happens that ALL the books are coming out in August, September and October so that's really convenient. Let the (pre)ordering begin!
The books I bought:
❀
Nevernight by Jay Kristoff
This book is all over the internet, the hype was crazy when this book came out. Honestly, I think the hype also ruined it a bit for me. I wasn't that blown away by this book after finishing it and I also had a really tough time getting through it. I'll talk more about it in my September wrap up. I ordered this one off of Wordery because the UK hardcover was only €12 there. I know. WHAT A CATCH. And it's so beautiful!
❀
Rebel of the Sands by Alwyn Hamilton
You know I like me some YA fantasy and I had heard good things about Rebel of the Sands. Also: the cover is just fantastic imo. I devoured this book in 2 or 3 days and enjoyed it very much.
❀
A Gathering of Shadows by V. E. Schwab
This one was only* €20 on The Book Depository so of course I had to add it to my basket. I read A Darker Shade of Magic last summer and thought it was about time I got onto the sequel. Haven't started it as of yet.
*It's usually around €30 for the hardcover on the website I usually order from.
❀
The Beauty of Darkness by Mary E. Pearson
WHAT A BEAST! The Beauty of Darkness is the finale to the Remnant Chronicles so obviously a lot had to be addressed and wrapped up. I liked the ending to this trilogy. Don't expect epic-ness à la Sarah J. Maas though. I was really sad I had finished another amazing YA fantasy series.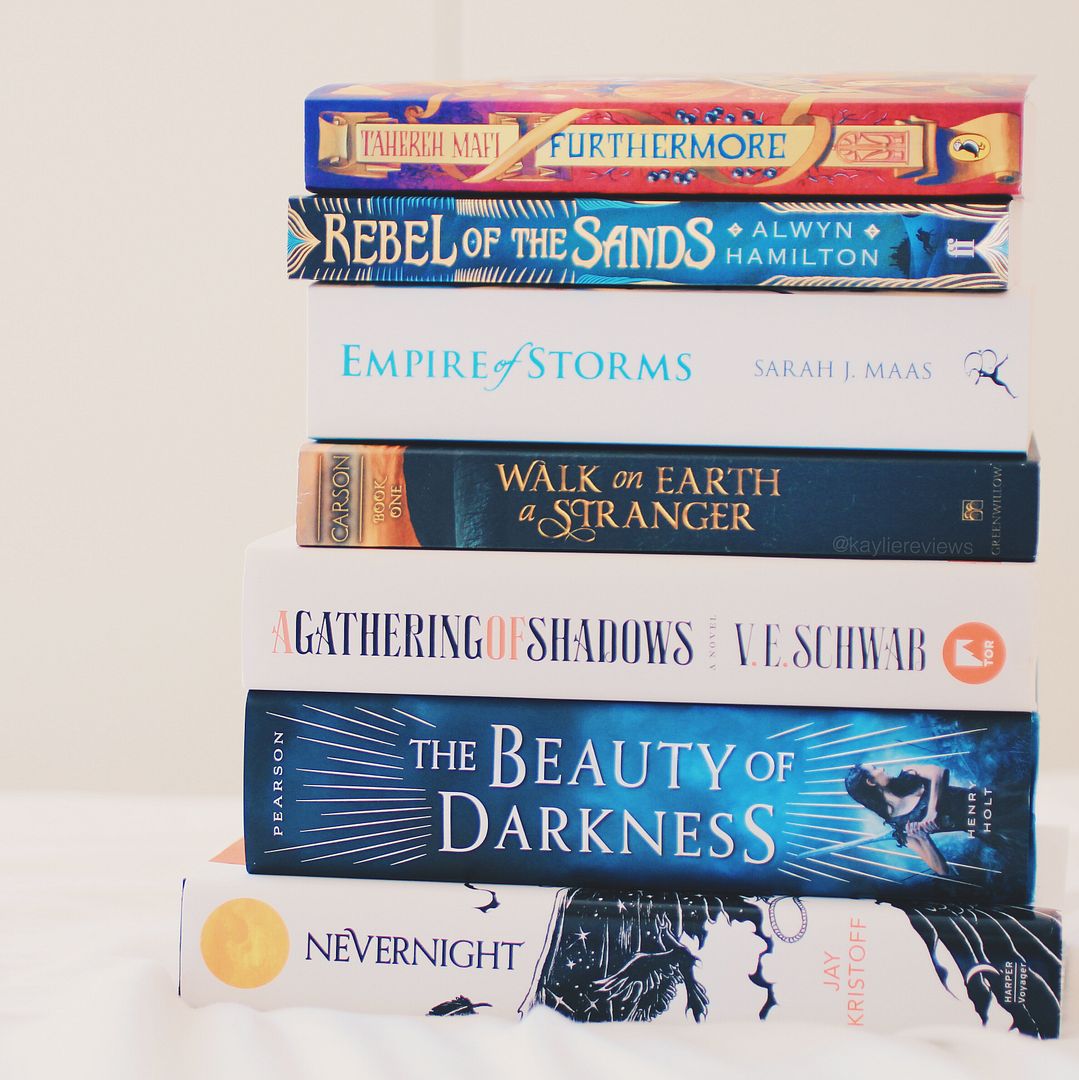 ❀
Empire of Storms by Sarah J. Maas
I had this one preordered but still ended up receiving it later than the release date (which isn't the end of the world, it's just never happened before). This was definitely one of my most anticipated book releases of 2016. How do I say this… Empire of Storms messed with my emotions, it made me happy and giddy but also angry and sad but most of all this book just killed me. It was amazing and epic and everything I hoped it would be but it also broke my heart which I obviously, don't enjoy all that much.
❀
Furthermore by Tahereh Mafi
Another preorder. I loved Tahereh's first series, Shatter Me, but most of all I loved her writing style. Furthermore is a middle grade book, which isn't my preferred genre at all, but I'm hoping to find that amazing writing of hers again in this book.
❀
Walk on Earth a Stranger by Rae Carson
I preordered the paperback and unfortunately it's not as shiny as the hardcover edition but it's got a really nice texture? I don't know how to explain this. Anyway, I loved her Girl of Fire and Thorns trilogy to death (might need to reread soon) so obviously I'd want to read her new work. I've forgotten what it's about and I think I'm just gonna go in blind and see what happens.
And that was my book haul. A lot, for my usual standards but tame in comparison to others. I've already finished over half of them so I've already had to tell myself to slow the fuck down. There are still some exciting book releases ahead such as
Crooked Kingdom
,
Gemina
and
Crystal Storm
. Not to forget that the
illustrated edition of Chamber of Secrets
is coming out next month!
---
Let me know if you have recently hauled new books and which new releases you are most excited about!